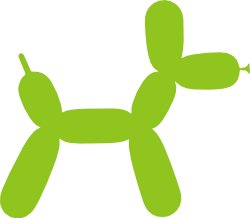 Balloon Animals
Search no further and go with the pros! Reserve a "Basic" or "Advanced" balloon twister for your upcoming special gathering – or reserve a Painter/Twister artist for twice the services and double the smiles…
Click the photos above to see enlarged versions of our work.
Basic Balloon Artists
"Basic" balloon twisters and basic painter/twister artists are talented Houston & Dallas / Ft Worth artists who come with a menu of 15-20 of the most popular basic balloon designs to choose from. Basic balloon animals = fun for all the kiddos at your party! (Not available in San Antonio & Austin)
Designed for school carnivals, non-profit events, parties with younger kids, or any event with lots of kids to get through in a short amount of time…
* Painter/Twister option below is for one basic artist bringing both fun services to your party or event!  
Basic Balloon Twister
2 hr minimum, Available in Houston & DFW areas only*
Basic Painter/Twister
2 hr minimum, Available in Houston & DFW areas only*
See our standard basic balloon animals menu:
A robust selection of basic balloons to choose from…
Advanced Balloon Artists
"Advanced" balloon twisters and advanced painter/twister artists are highly talented long-time Houston & Dallas-area artists who are some of the very best entertainers in town – they will come with whole books of 50+ advanced designs to choose from, and even just take requests! (Available in ALL areas)
Great for private parties, corporate events, parties with older kids or adults, or when really impressing your guests is the goal…
* Painter/Twister option below is for one basic artist bringing both fun services to your party or event!
Advanced Balloon Twister
2 hr minimum, Available in ALL areas
Advanced Painter/Twister
2 hr minimum, Available in ALL areas
See designs typical of our advanced twister approach:
Wow-factor is key here – twisting cool surprises and special requests!
Artsy Events donates $5 from every artist booked to help stand up for kids.
Our donations are split between Operation Underground Railroad – fighting to eradicate child sex trafficking, and No Kid Hungry – ending childhood hunger in America.
Read more about them here and join us in standing up for children everywhere!
What Our Customers Are Saying
Don't just take it from us, let our customers do the talking.
Bringing the fun of balloon animals to Austin, Dallas / Fort Worth, Houston & San Antonio!
"Totally a fantastic experience. They were prompt, professional, and easy to work with. Highly recommend to anyone needing services."
Anna R. - Multiple artists for a company picnic
"Lindsay was great very nice and the kids loved her!"
Anna A. - Basic face painting & balloon twisting combo for a private party
"Thank you so much for working with us yesterday! We loved the challah crowns you put together. Totally made our event!"
Chana A. - Balloon twisting for a local banquet




Frequently Asked Questions About Balloon Animals
How many balloon designs can be done in each hour?
It all depends on the simplicity or complexity of the designs! Our basic twister designs take 2-4 minutes each, depending on the design chosen. Our Plus twisters often make designs that are more complex, more like 3-6 minutes per design.
How long do balloons last?
Balloons are not meant to last forever. If kids are playing hard with them, they often start popping or unwravelling within the hour! Balloons are allergic to anything abrasive – like trees, rocks, grass, gravel, etc. So how long they last purely depends on how the kids are treating them. We usually tell the kiddos: Don't worry, they don't last forever, so have fun with them while they last, and when they pop, well that is okay! 🙂
Do balloons have latex?
All balloons have latex unfortunately — so anyone with a strong latex allergy will want to steer clear of them. There is no such thing as latex-free balloons for balloon twisting.
How does a Painter/Twister artist manage their time during a party?
Our painter/twister artists bring BOTH their balloon bag AND their face painting table, and then move back-and-forth between the two depending on what the kids want. Another common approach is that they will start with one service for half the time, then move the the other service for the remaining time. Depending on the type of party or event, how many kids are present, and how much time they have to work with, our Painter/Twister artist will do their best to manage their time wisely and fit in as much as possible in the given timeframe!
Contact Us
Call us at: 832-308-3899